Rhodesian Personalities

John Love (1924 - 2005)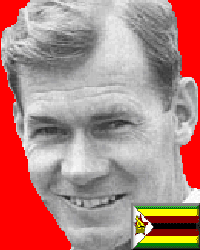 Six times South African F1 Champion in the 1960s, this Rhodesian star had originally shone in the European Formula Junior firmament back in 1961-62 as a member of Ken Tyrrell's Cooper-Austin team.

An unfortunate accident at Albi resulted in a very badly broken arm and effectively thwarted his chances of moving into full-time F1, but he came close when he was nominated as Phil Hill's replacement in the works Cooper team for the 1964 Italian Grand Prix at Monza.

Nevertheless, he became a regular contestant in the South African Grand Prix and was leading the 1967 event at Kyalami in his 2.7-liter Climax-engined Cooper when a misfire prompted him to make a precautionary stop for extra fuel and he dropped back to finish second behind the works Cooper-Maserati of Pedro Rodriguez.

A Book Review - August 2, 2005 by David Tremayne found at www.grandprix.com

FOR THE LOVE OF IT : John Love and an Era of South African Motorsport, by Greg Mills
Published by Ecurie Zoo (00 27 11 646 1808, voszoo@global.co.za)
Some drivers are fated to be remembered for one race, even though their careers embraced any others. John Love, who died in April aged 80, was such a man. For the Rhodesian, it was the 1967 South African Grand Prix at Kyalami.
This was the second year of the new 3-litre F1 and cars back then were still unreliable, and in some cases, overweight, monsters. Love was running his ex-Tasman Cooper with a 2.7 litre Climax engine. He should have been outgunned by many of the visiting Europeans with their fancy equipment, but he qualified an excellent fifth just over a second behind reigning champion Jack Brabham in his Brabham Repco. The race was one of those when many fell by the wayside, among them Jimmy Clark and Graham Hill in their bulky BRM H16-engined Lotuses, the similarly powered BRMs of Jackie Stewart and Mike Spence, and Brabham himself. Love had always run ahead of the works Coopers, which were hefty tanks powered by Maserati's 10 year-old V12. Towards the end, after Denny Hulme had dropped back minus brakes in his Brabham, Love was on track to score a major upset victory. Then his car hiccoughed as the fuel pump failed in his reserve tank and he rushed pitward for two more precious gallons to be thrown into the main tank. Pedro Rodriguez's Cooper Maser lumbered past for a lucky win that did not reflect the great Mexican's true talent. Love recovered to finish second, nearly half a minute behind, and the fairy tale newspaper stories were torn up.
It would be wrong to regard Love as a nearly man. After racing Formula Junior in Europe for Ken Tyrrell in 1962 (and winning the British Saloon car Championship in a Tyrrell Mini), he elected to return home to race after breaking an arm at Albi. Denied what could have been a high-level European career, he is nevertheless regarded fondly by men of the calibre of Rory Byrne, Tony Maggs and Ian Scheckter, all of whom went on to prove themselves on the international stage after being inspired by his exploits. He went on to become a multiple F1 champion in South Africa, moving on from the Tasman Cooper to cars such as the Brabham BT20, Lotus 49 and March 701, all of which he drove with aggression and considerable fairness against competitors of the calibre of Dave Charlton and Sam Tingle. He was frequently unbeatable, and was the man against whom the others were judged. If Europeans forgot about him, South Africans did not. To them Love was deservedly a hero.
That's why it is pleasing that Dr Greg Mills, national director of the SA Institute of International Affairs in Johannesburg and then founder this year of E. Oppenheimer & Son's Brenthurst Foundation to promote economic growth, has taken time from writing books on more academic subjects to capture Love's life story between the covers of this slim Ecurie Zoo paperback which was published in time to commemorate Love's 80th birthday.
Small details irk, such as mentions of the cost of Love's cars with no reference to today's values for comparison, and it is curious that so little is dedicated to the accident Love had with his Team Gunston Surtees TS9A at Kyalami which saw the car separate the guardrails and finally come to rest with one pressed literally up to his helmet. Amazingly, he emerged unscathed.
These, however, are minor quibbles. It's enough that Mills wrote the book in the first place, for history such as this needs to be written, and tough Rhodesians such as John Love deserve to be remembered.