Rhodesian Personalities

Pieter Kenyon (PK) Fleming-Voltelyn van der Byl (1923-1999)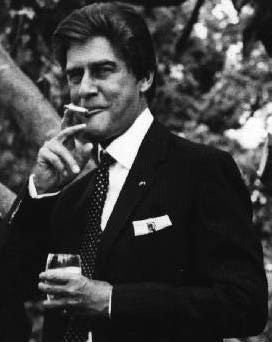 Photo by William Higham
Pieter van der Byl was one of the more colourful, eccentric and extreme ministers in Ian Smith's rebellious Rhodesian cabinet when that country unilaterally declared independence from Britain in 1965. Historians hold that the lanky, languid "P K" van der Byl was, to the frustration of Harold Wilson and successive British prime ministers, the most vocal in persuading Mr Smith not to "succumb or surrender" in the interminable rounds of talks and negotiations to bring an end to UDI. To a generation of British politicians whose careers foundered on Rhodesian intransigence, he cut a Dracula-like figure with his saturnine looks, ineffably arrogant demeanour and sneeringly cutting comments. To many white Rhodesians, though, he became something of an heroic cult figure, particularly when he was appointed minister of defence in a country being drawn inexorably into a protracted and ugly war against black nationalist guerrillas in the 1970s.

Dressed in immaculate combat fatigues and slapping a swagger stick against an elegant palm, he would visit battle-front outposts in the bush inspiring Rhodesia's increasingly beleagured troops with Churchillian bombast. At one stage, he made no secret of his wish to succeed Mr Smith as Rhodesian leader if there should be "even a whiff of surrender"; but the wily Rhodesian leader, more taciturn but also much more astute politically, would confide that he "had P K's measure".

Van der Byl eventually became an embarrassment to Ian Smith, not so much because of his intransigence in negotiations with Britain but more because John Vorster, prime minister of South Africa, Rhodesia's only real ally south of the Limpopo, could stand neither sight nor sound of "that dreadful man". Vorster would make a point of discussing tactics and strategy with Ian Smith before, during and after rugby matches in South Africa. He made it a condition that Mr Smith could bring anyone he wished - except P K van der Byl. The antipathy was born of the fact that van der Byl, of old, wealthy Cape Afrikaner stock, had adopted what he thought was an aristocratic English nasal drawl and imperial English mannerisms and attitudes which, in Vorster's view, were a treacherous abrogation of his Boer roots. As South Africa's involvement in Rhodesia's war became imperative, Ian Smith was eventually obliged to sack van der Byl as defence minister and push him sideways into the post of foreign minister, a meaningless portfolio in a country that was recognised by no country in the world other than South Africa, from which he was effectively debarred.

Pieter Kenyon Fleming-Voltelyn van der Byl was born on November 11 1923 in Cape Town, the son of Major Piet van der Byl, scion of a wealthy Cape farming family who had served in Jan Smuts's cabinet in the 1940s. P K matriculated from Bishop's Diocesan College, which is still regarded by alumni as "South Africa's Eton". During the Second World War, he joined the South African Army as a staff officer in Egypt and then secured secondment to the 7th Hussars in Italy. With the return of peace, he read Law at Pembroke College, Cambridge, where he became known as "The Piccadilly Dutchman" for his aristocratic affectations. He moved to what was then Southern Rhodesia in the 1950s, farming tobacco during the post-war boom years when it was impossible not to prosper.

Playing to perfection the role of gentleman farmer, van der Byl became known as a lavish host, particularly to members of Europe's aristocracy who had gravitated to Rhodesia in hopes of better things. As a bachelor, tall, good-looking, affluent and charming, van der Byl became something of a legend for his womanising in a country where discretion was impossible. His exploits, real or imagined, earned him the sobriquet "Tripod" among envious fellow white farmers. He cut his political teeth with the powerful Rhodesian Tobacco Association in the late 1950s and eagerly joined Ian Smith's new, reactionary Rhodesia Front Party, becoming one of its first MPs in 1962. He swiftly became the first party whip and was deputy minister for information, immigration and tourism when UDI was declared on his birthday, November 11 1965. Although then only a deputy minister, his presence looms large in all photographs of the historic, and ultimately tragic, UDI signing ceremony in Salisbury.

Although van der Byl always insisted that visiting journalists "use the tradesmen's entrance", he was a correspondent's dream when it came to pithy quotes and colourful copy. Asked why the government refused to release the names of those hanged for political or criminal offences, van der Byl replied: "Why should we? Anyway, it's academic because they are normally dead." An American woman journalist admired a hunting trophy hanging on his wall and asked where the creature had been shot. "P K" pointed to a remote spot in the bush. "Aren't you worried about guerrillas up there?" she inquired. "My dear child," drawled the minister. "Gorillas these days are found only in remote parts of the Mountains of the Moon. If you mean terrorists, yes, but worried, no."

As defence minister, he revelled in ringing exhortations to battle. "If the battle should wax fiercer, there can be no question of surrender. We shall contest every river, every crossroads, every village, every town and every kopje." It was empty rhetoric. As Rhodesia was obliged to move towards accommodation with its black majority, van der Byl briefly sustained his political career, sharing a cabinet portfolio with a black minister in Bishop Abel Muzorewa's ill-starred "compromise" government of Zimbabwe-Rhodesia. But when, as van der Byl put it, "the wheels came off" and Robert Mugabe's Zanu-PF came to power in 1980, he slipped quietly into the background and in 1982 retired to South Africa to the magnificent estate he had inherited near Caledon in the Western Cape.

Van der Byl married, in 1979, Princess Charlotte von Liechtenstein, a cousin of the Prince of Liechtenstein and a niece of Otto Habsburg; they had three sons.

Written by Chris Whitehead, Editor Rhodesians Worldwide, November 1999.