Rhodesian Personalities

(Alan) David Butler - (1927 -1972)

Educated in Canada and at Eton, David went to Rhodesia (now Zimbabwe) in 1949 to farm. In 1951 he married Joanna and they had two sons, Nigel and Rhett. Over the years David's business interests grew significantly and included successful aircraft charter businesses, farming and ranching and investment holdings in many of the major companies.

Politically liberal but far from an African Nationalist, David was leader of the opposition Rhodesia Party for eight months before the Rhodesian Front government called the election in mid-1965, which squashed all opposition and paved the way for UDI. He later helped form the Rhodesian Constitutional Association in an attempt to keep alive a body of Liberal opinion.

One of the most outstanding individual achievements in Rhodesia's sporting history was David Butler's success at the 1960 Olympic Games. Crewed by Chris Bevan, he finished first in one of the seven races, second in another and fourth overall in the Flying Dutchman class, a remarkable record for a sailor from a small landlocked country. He was nominated as a finalist for the Sportsman of the Year award in 1960. In the 1964 Olympic Games a broken rudder threw him out of contention and Butler finished 11th overall. He missed the 1968 Olympics because of Rhodesia's exclusion. In January 1971 David skippered the 40ft yacht, Golden City, (funded by a Johannesburg syndicate of businessmen headed by Donald Ord) in the inaugural Cape Town to Rio race. The boat was entirely crewed by inland yachtsmen and finished 11th over the line out of a fleet of 72; the final placing on handicap was 7th. She was the second South African boat in and the first non coastal boat from SA, only being beaten by the overall winner Albatross from Knysna. Butler was chosen to compete in the 1972 Olympics in Munich. While in Europe preparing for the Games and strongly fancied for a medal after an extremely successful build-up, he was killed in a car crash in Belgium in July 1972, just before the Games started.

Sadly, Joanna, died of cancer in October 1970. He married his second wife, Jill (nee Ord) in June 1971 and she survived the Belgium car accident. She had David's ashes scattered over one of his favourite places in Rhodesia - Irisvale Ranch, Balla Balla. David loved flying and often used to pilot his own light aircraft down to the ranch for a break away from the hustle of the big city. It was fitting therefore that one of his company planes - a crop sprayer from SkySpray should be used to scatter the ashes from the air over the ranch. There is a plaque in David's honour on a small kopjie on the ranch and another memorial plaque can be found in the cloisters of the main Anglican Cathedral in Harare, Zimbabwe.

On another interesting note David's Flying Fifteen Boat left at the Jacana Yacht Club on Lake McIllwaine forms part of the Bar. Every week end people are reminded of his prowess as a sailor as they drink on the foredeck of "Saluki 1"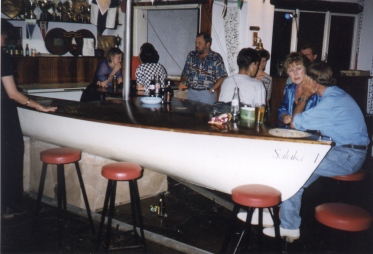 Photo extracted from the Jacana Yacht Club web site

Return to Rhodesian Personalities Index

The information on this page was extracted from newspaper cuttings and magazine articles with additional notes by the webmaster and Jill Butler.